About the Author
Anna Qu
Anna Qu was born in Wenzhou, China and immigrated to the United States as  a child. She grew up in New York with her mother, stepfather, and stepsiblings. After experiencing abuse from her mother and stepfather, she was sent to live in China for six months when she was a teenager. After returning to the United States, she was forced to work in her family's sweatshop.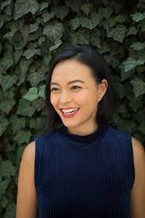 After calling the Office of Children and Family Services, she was able to live in her mother's house until she went to college. She received her Bachelor of Arts degree at Binghamton University and later went on to pursue her Master of Fine Arts in Creative Non-Fiction at Sarah Lawrence College.
She writes personal essays on identity and growing up in New York as an immigrant. Her work has appeared in various literary magazines including Poets & Writers, Lithub, Threepenny Review, Lumina, Kartika, Kweli, Vol.1 Brooklyn, and Jezebel, among others.
Anna serves as the Nonfiction Editor at Kweli Journal, and teaches at Catapult, Monmouth University, and the low-residency MFA program at New England College. She was awarded the 2023 Black Mountain Institute Shearing Fellowship.
Book Reviews of Made in China
Recorded Interviews and Speaking Engagements
Anna Qu at the 2022 PRH Common Reading Virtual Author Event
Australian Writers' Center
Anna Qu's speaking engagement at Eastern CT State University
News Articles about Anna