Although COVID-19, influenza, and the common cold, are all caused by different types of viruses, we can use similar strategies to stay healthy and minimize their impact on our bodies and lives.
How to #StopTheSpread of viruses
Stay home

if you are feeling ill.

Get your flu shot. Flu vaccines reduce the risk of flu illness, hospitalization, and death. The best way to prevent seasonal flu is to get vaccinated every year.
Wash your hands often with soap and water or use hand sanitizer.
Use a face covering over your nose and mouth.
Practice social distancing by staying a minimum of 6 feet apart from others when possible.
Avoid touching your eyes, nose, or mouth, especially after visiting public places, such as bathrooms, stores, and public transit.
Cough or sneeze into your elbow instead of the air or your hands
Stay hydrated by drinking plenty of fluids
Avoid close contact with individuals who are or appear sick
Disinfect high-touch surfaces and electronics
Practice positivity. Research shows that a positive attitude can boost your immune system.
Follow these nutrition tips to help boost your immune system, including boosting your immunity by increasing your Vitamin A and C intake.
Is it a cold, the flu, or COVID-19?
Below is a table of symptoms for these illnesses. Remember to consult your healthcare provider if you are experiencing symptoms, so they can provide appropriate guidance.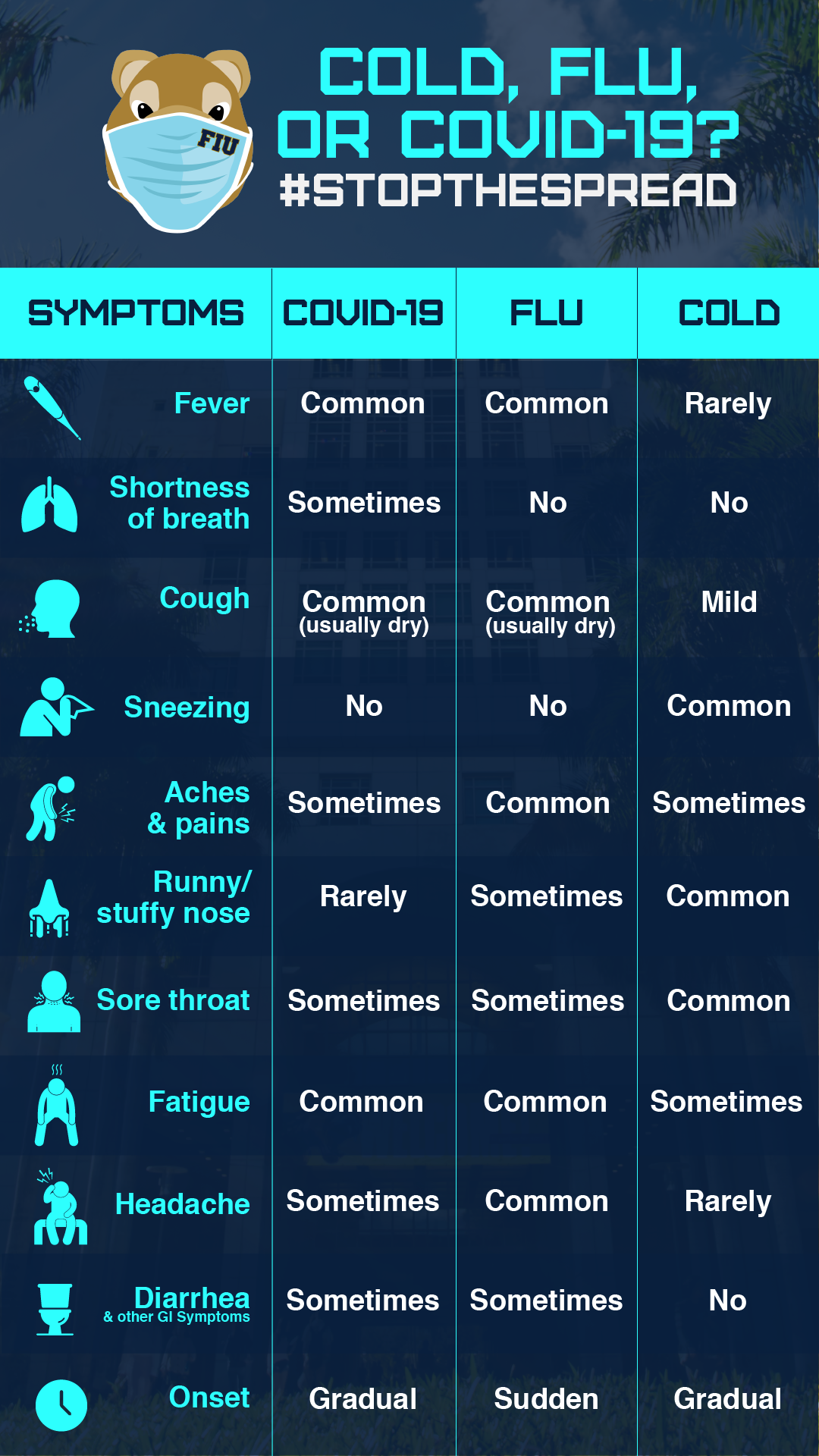 How we can help
The Student Health Clinics

will be providing FREE flu vaccines for registered FIU Students, while supplies last. Call 305-348-8385 (MMC) or 305-919-5620 (BBC) to schedule your appointment.

FIU Health provides flu shots to FIU staff

,

faculty, and the surrounding community. Please call 305-348-DOCS (3627) for more information or to schedule an appointment.
The FIU Healthy Living Program provides preventative and complementary therapies such as aromatherapy and nutrition consultations for registered students.
Tips to boost your immunity
Including physical activity

in your daily routine when you are healthy will boost immunity. This means go for a walk, a bike ride, or trying an at-home workout video at your level of fitness.

If you get sick it is important to rest, as added stress can decrease our immune system and make it more difficult to recover.
Be sure to eat foods rich in vitamin C; this can decrease or shorten the severity of illness. Food rich in vitamin C includes citrus fruit, cabbage, broccoli, pumpkin, sweet potato, and spinach. If you think you are not getting enough vitamin C from food, then you may want to incorporate a vitamin C supplement into your daily routine.
Zinc is also protective and can boost your immune system and shorten illnesses. Food rich in zinc includes fish, poultry, eggs, milk, whole grains.
Gut flora (bacteria) in diverse and high amounts can also help prevent illness. You can increase gut flora by eating fermented foods like yogurt, kefir, miso, tempeh, kimchi. You can also incorporate a probiotic supplement into your daily routine.
Over and under eating can decrease your immune system and promote illness. Be mindful when preparing and eating your meals to ensure they are inclusive of foods that enhance your body's natural defense mechanisms.