We salute you FIU parents and families!
As parents of FIU students and alumni, your FIU Parent & Family Council knows the dedication, long hours, and perseverance it takes for our Panthers to walk across that stage. We congratulate you because you too have worked hard, worried, and supported your Panthers and now it's all paying off – your graduate will soon be out in the real world. We are thrilled to help you celebrate their accomplishment and we'll be cheering them on too!
We invite you to celebrate your graduate's achievement by participating in the university's Commencement activities; for all the details on commencement ceremonies and other events, please visit the commencement website. For grad gear, diploma frames, and other FIU merch, please visit the Barnes & Nobles at FIU.
Congratulations and Go Panthers,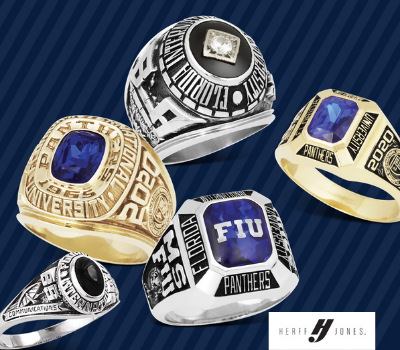 Our university is proud to partner with Herff Jones who takes pride in creating college graduation rings for students and graduates of FIU. Reward your graduate for their hard work with a symbol of excellence by selecting the official FIU ring which allows for personalization of your grad's style, experience and achievement.
We are pleased to offer you a gold deep discount offer that will save you up to $100 off a Herff Jones Class Ring! Please note: discounts do not apply to Asteria, Aurora or Solstice collections and other discount codes will not be honored even if they are accepted during the checkout process.
If you wish to order your ring in person at our local store, please visit Herff Jones to make your appointment.
Orientation and Family Programs
MMC – Graham Center (GC) 189
BBC – Wolfe University Center (WUC) 129
Hours
Monday – Friday: 8 am – 5 pm