With class, a busy social life and all the other great things that come with being a college student, you're going to have a very busy schedule. Here, you'll find all the most important things you need at FIU. Think of it as the only cheat sheet you'll ever be allowed to use in college.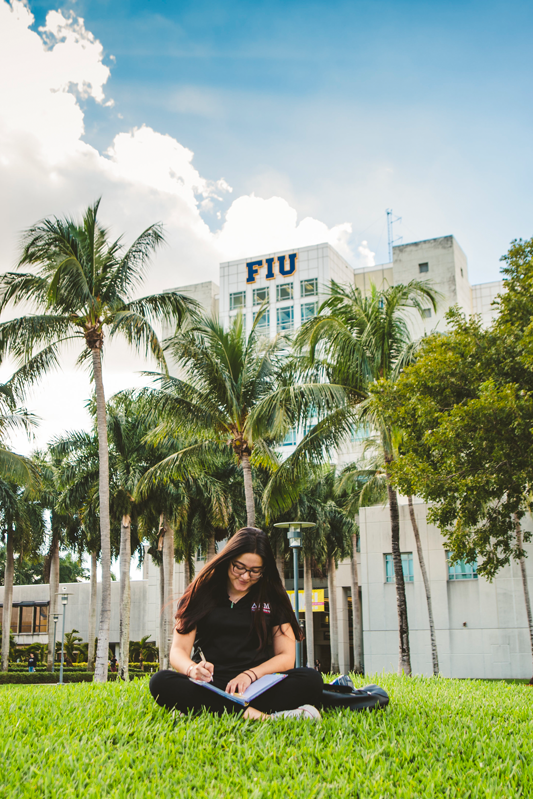 Academics
It's college. There's a lot going on and not all of it is happening in the classroom. But let's not lose sight of the most important reason you're here: academics. Here are a few things that'll help you get the grade.
Academic deadlines
You can't go to classes if you forgot to sign up for them. And you'd do well to keep track of the drop date, too (always protect the GPA). Is that a mirage you see? Nope, it's the last day of class, the best day of all. Here are the most important dates you need to know:
Financial aid help
Don't let a simple thing like a late payment prevent you from registering for classes. For example, did you know that you can delegate access to your myFIU account so your parents can make a payment towards your fees?
Register for classes early
Classes fill up fast. You don't want to be the person who starts registration the first week of class (those late fees are expensive!). Be sure to register as soon as possible for the classes you want to take.
Study spaces
If you're creative, anything is a study space. Still, some are better than others. When you're ready for something a bit more comfortable (and sanitary) than the floor of the hallway outside your class, here are some of the nicer places to hit the books:
The libraries: The Green Library (MMC) and Hubert Library (BBC) are the go-to spots for studying. At either library, you'll find abundant seating, quiet zones, computer labs, and even group study rooms. Learn more about reserve study spaces.
FIU@75: In addition to computer labs, FIU@75 offers reserved study spaces. Learn more about reserving a study space at FIU@75.
The Sky Lounge: Started in 2010, Deuxieme Maison's Sky Lounge converted a neglected courtyard into a beautiful, alfresco study space.
ARC: Residential students have access to the Academic Resource Center, which features study spaces, academic success workshops, tutors, and undergraduate academic advising.
If you have to miss class, professors are far more sympathetic if you communicate with them early. Our faculty phonebook makes it easy to get in touch.
Talk to your advisor
Not sure about a class? Do you want to change your major? Book time with an advisor to have all your questions answered. Login to your MyFIU and use the My_eAdvisor dashboard.
Student Academic Success Center
The "Sassy" building or Student Academic Success Center (SASC) is that beautiful new building in front of Barnes & Noble by the Gold parking garage. Skip the lines by using the "myVisit" app on your phone.
Download myVisit App
Android
Apple
Offices in SASC
Career and Talent Development
College Life Coaching
Connect4Success
Financial Wellness Program
International Student and Scholarship Services
Office of Study Abroad
OneStop Enrollment Services
Student Access and Success
Student Financial Services
Transfer and Transition Services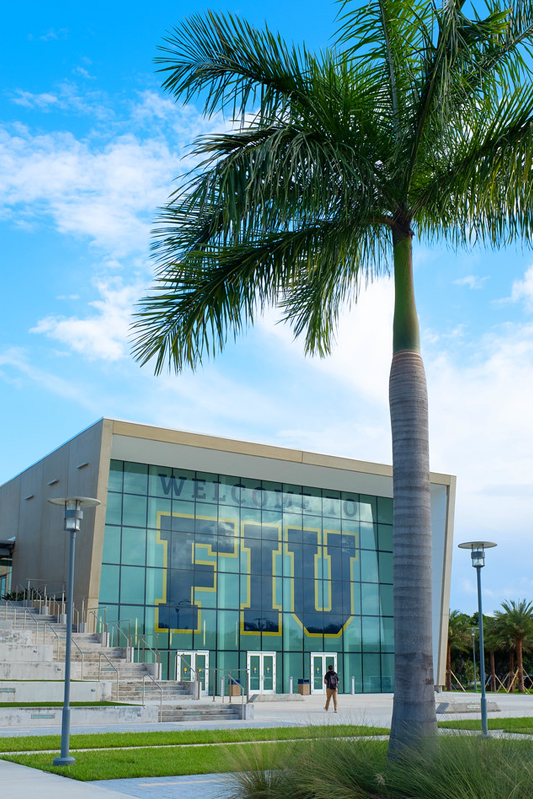 Dates & Events
The party doesn't stop after WOW is over. New events pop up all the time. Keep tabs on the calendar to catch events you might be interested in.
You'll find important dates, like academic deadlines and holidays. Do not miss a financial aid deadline, otherwise you may lose a scholarship or delay your graduation! Heck, myFIU now even accepts scanned and photographed documentation to speed up things.
Athletics
Home to more than a dozen Division I men's and women's teams, FIU's exciting athletics program competes at the highest level of collegiate athletics. Its alumni include Major League Baseball All-Star Mike Lowell, NFL stars T.Y. Hilton and Johnathan Cyprien, NBA standouts Carlos Arroyo and Raja Bell and WNBA standout Andrea Nagy, and soccer pros Bobby Boswell, Jeff Cassar and Steve Ralston.
No matter what your favorite sport is, there's an FIU team to cheer for. Don't miss Game Day.
Food
Two things you don't want to experience the first week of class: stress and hunger. Each campus has its own food to offer. Check out your options, as well as their location and hours of operation.
Tip: Cold food is sad food. Heat up your meal in microwaves. They're everywhere on campus.
On-campus options aren't your taste? There are plenty off-campus choices, even some with discounts for FIU students.
109 Burger Joint
SpecialTEA
Pho 79
Subrageous
Jasmine Sushi & Thai Cuisine
Vegan & Juice
Latin American Cafeteria
PDQ
Jimmy Johns
Housing
While most FIU students commute, living on campus is an experience. Whether you live on MMC or BBC, get out of your room and get to know your dorm mates. View the housing options and enjoy the perks of living on campus.
Did you know that campus residents can plan their own events? After all, if you live here, it's your home.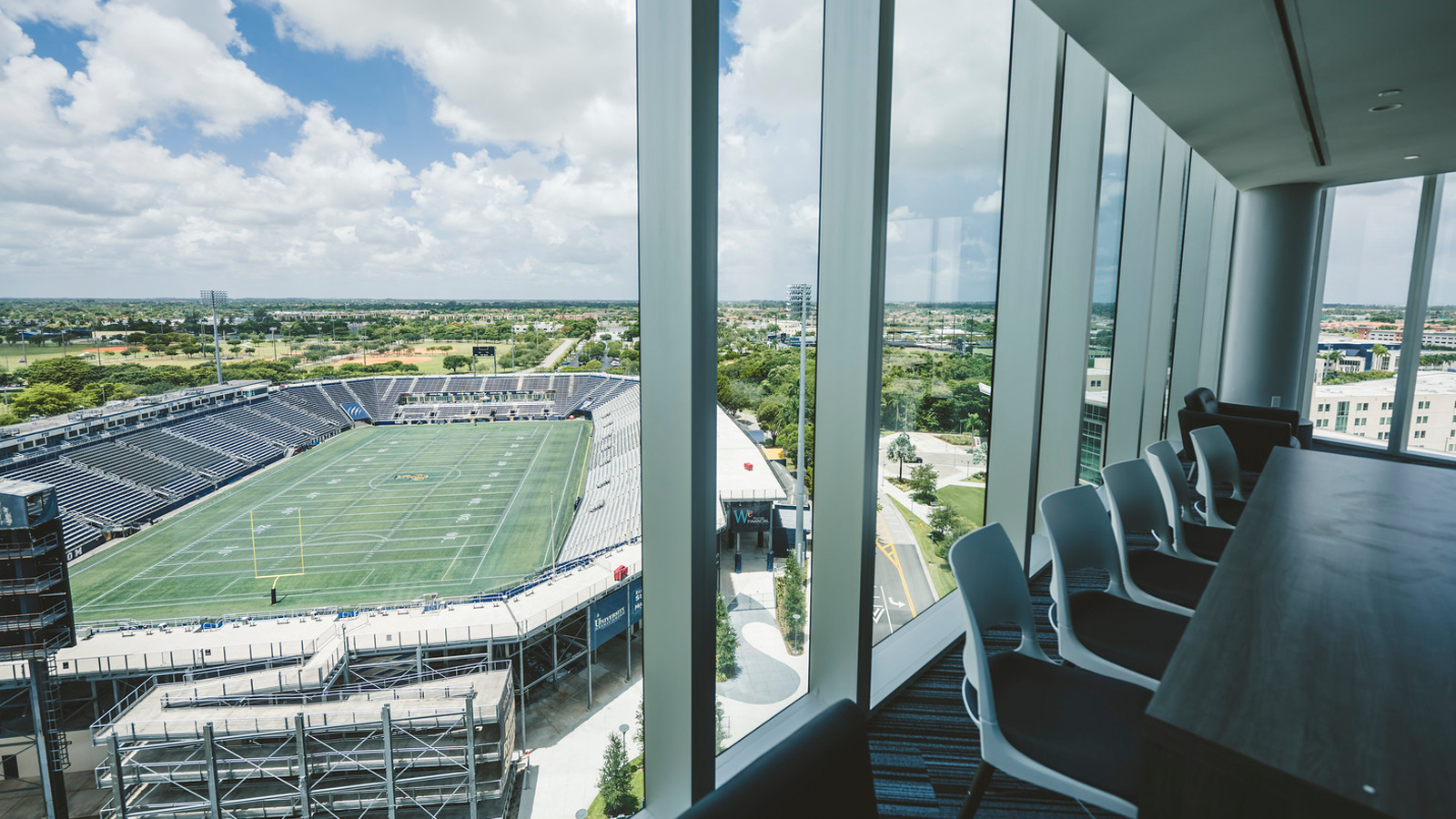 Life on campus
Life at FIU is as fun as you make it. There are lots of fun (and free!) things to do - if you know where to go. There's activity all around our campuses if you look for it. So don't worry, you'll never be bored.
Where to meet people
On MMC
The Pit: At the heart of Graham Center, this is where most major club events happen. On Fridays, watch a movie (they're new releases) in the auditoriums near to the Pit.
Game Room: Play ping pong, foosball, pool and videos games on all the latest consoles. Join a game of chess, cards or other tabletop games too. Find it next to Chili's.
Student Art Gallery: Prime hangout spot near the south entrance of GC. Nicknamed the "Piano Room" for the baby grand piano which students take turns playing (most likely Coldplay or the music from Legend of Zelda).
On BBC
Panther Square: The center of activity in BBC's Wolfe University Center (WUC). Panther Square draws the crowd with comfy lounging spaces, shady outdoor courtyard and fun events.
Game Room: Play ping pong, foosball and videos games on all the latest consoles. Students sometimes play chess. On the second floor of WUC near Panther Square.
On EC
Panther Pit: Lounge area on the second floor where you can play pingpong, foosball and pool. Join a game of chess and other tabletop games, too.
Join the club
Meeting your fellow students can be intimidating. Joining a club can make it easier to make friends who share your interests:
Academic organizations
Cultural and religious organizations
Greek Life
Special interest and hobby clubs
Sports clubs
Support groups
Find your club: There are hundreds of clubs you can join. Can't find something that meets your interests? You can even start your own club.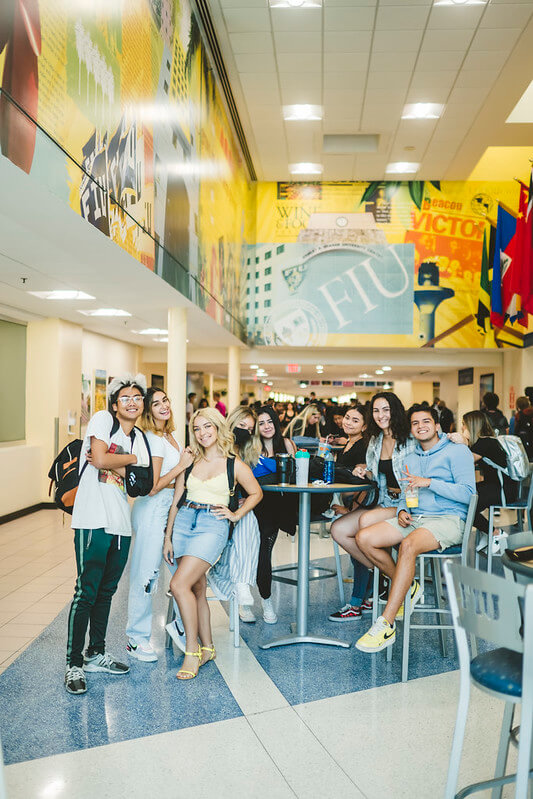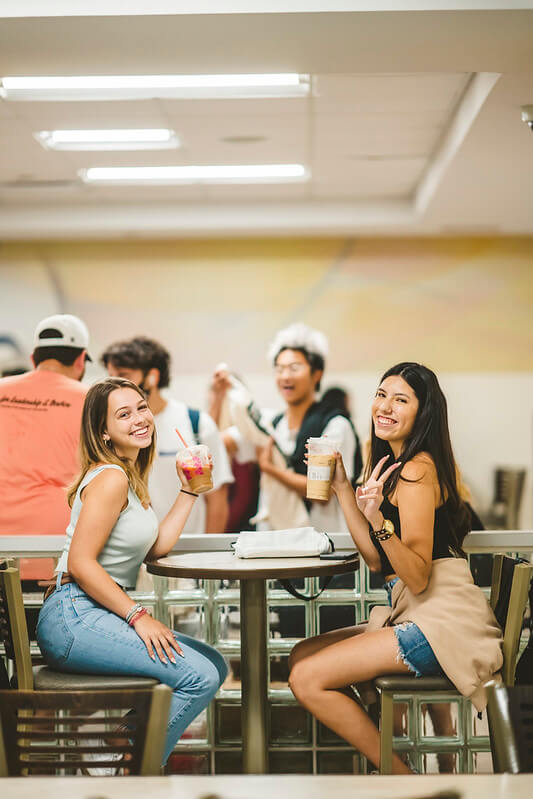 Parking & transportation
If you learn only one thing from this guide, let it be this: It's hard to get the grade if you don't get to class. Give yourself plenty of time and use our lot locator to quickly find nearby spaces. If you can get to campus an hour before class, you'll make your life a lot easier.
Permits and tickets
Your license plate serves as your parking permit. Just visit Parking & Transportation to register your vehicle. Have a parking fine to take care of? Pay or appeal online.
Transportation
Connecting our Panthers on the move!
The Panther Mover provides golf cart transportation with stops throughout campus. It operates continuously Monday – Friday from 8 a.m. – 8 p.m. 
Get a helping hand
TapRide provides on-demand golf cart transportation to our FIU community.
Monday – Friday from 7:00 a.m. – 5:00 p.m. available for the DRC-registered community and injured riders
Monday – Friday from 5:00 p.m. – 9:00 p.m. available to the entire FIU community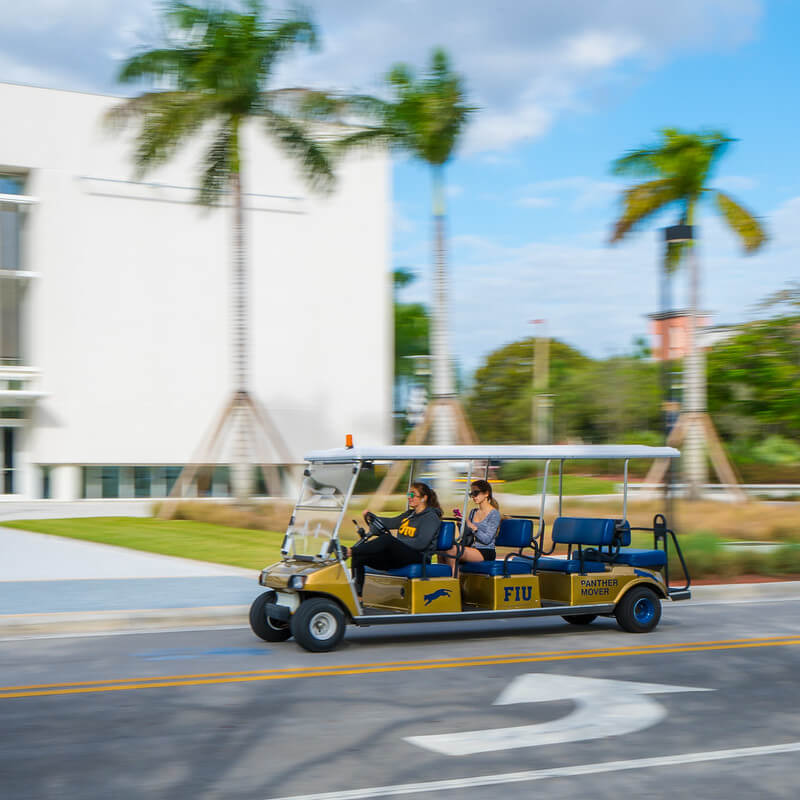 Get around town
FIU buses and shuttles connect MMC, BBC and the Engineering Center. Hop on and spare your car some wear and tear.
Panther Express: This shuttle connects FIU's two main campuses, Modesto A. Maidique Campus and Biscayne Bay Campus. The pick-up and drop-off stop for MMC is in Lot 3, east of the Graham Center and next to the Gold Parking Garage. The pick-up and drop-off stop for BBC is located in front of the AC1.
CATS Shuttle: The CATS shuttle travels between Modesto A. Maidique Campus and the Engineering Center. Two shuttles will provide additional stops at the Miami-Dade transit hub located at 107th Ave. and 17th St. and at the new housing towers in the City of Sweetwater.
Doral Trolley, Sweetwater Trolley and Nomi Express: These municipal routes connect FIU locations with malls, parks and restaurants.
Freebee: On-demand, door-to-door transportation services for our FIU community. For a free ride, simply download the Ride Freebee app, request a ride, and jump on board! Your ride MUST begin or end within the Modesto A. Maidique Campus or Engineering Center.
Retail
Believe it or not, you can buy most of the things you need without ever leaving campus.
Textbooks
You'll most likely need a textbook for each class-usually multiple textbooks. We have textbooks available at both our MMC and BBC bookstore locations. They're also available at the online bookstore.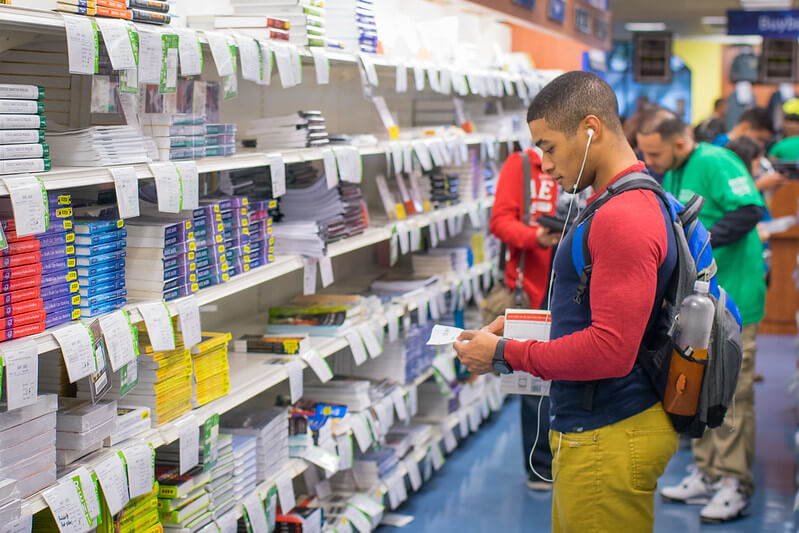 Panther Book Pack
Panther Book Pack provides undergraduates course materials at a flat rate of $20 per credit hour. Undergrad students will automatically be signed up to receive books that faculty require. Panthers can have the books delivered to them at an off-campus location, get them at the on-campus bookstore, or access them digitally on Canvas.
Students have the ability to opt-out of the program on MyFIU at the Panther Book Pack tile and obtain rentals on their own. But that could mean missing out on savings.
For example: The Panther Book Pack flat rate is $300 for a 15-credit course load. Previously, FIU recommended students budget $600 for books and supplies each semester.
What you can buy on campus*
*MMC Only
Tech
It's college in the 21st century. No more rocks and charcoal. You're going to need access to technology during your time here. Luckily, there are lots of resources available that keep you on the cutting edge.
Student tech discounts
You don't need the newest, high-tech toys to get through college, but they sure are nice. As a student, you have access to discounts on many products and even free access to software.
In some cases, your specific academic department may have access to software used in your chosen field, so be sure to ask around.
WiFi
It surrounds us. It penetrates us. It binds the galaxy together. You're going to need WiFi as a student. Here's how to get it:
Computer labs
If you should find yourself without access to a computer, need access to specific software, or just need a place to focus on writing a paper, computer labs are always available.
In addition, many specific academic areas have their own specialized labs that offer software and tools you'll need as you progress through your program of study. Be sure to ask around.
IT services
Having trouble with MyAccounts (your login for all things FIU)? Need your password reset? The Division of Information Technology can help by ringing their call center, 305-348-2284.