Setting You Up For Success 
FIU is currently the sixth largest higher education institution in the country. A student can feel overwhelmed by the demands of such a competitive university. A student can also experience an array of academic and lifestyle transitions during college. Many FIU students have to work in order to afford the expenses of an undergraduate program. Others become actively engaged in FIU's social culture. Although each student's college experience is different, they must all balance their lives with their academics.
Academic Success Plans (ASPs) exist for students who want to improve their academic performance and build their academic skill set. ASP is a holistic program for students to assist in balancing their academic performance with their life responsibilities. The program is individualized, providing a small learning community within a large institution like FIU.
ASP is a two-part, semester long program, comprised of the following:
Subject-specific tutoring for up to two classes 
Individualized sessions with the Academic Coach to develop time management, study strategies, test taking strategies, motivation, and more.
Academic Success Plan Video
Activate an ASP
If you are interested in joining the program, please contact Kiara Kumar to schedule an initial meeting to discuss your academic concerns, goals for the semester, and current study habits. If you are interested in activating an ASP, contact:
Meet The ASP Tutors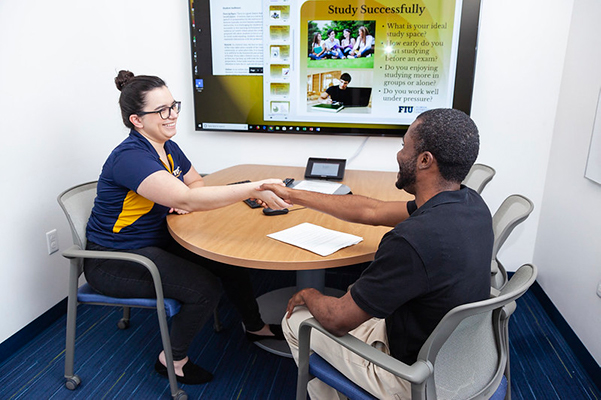 Our Academic Success Plan tutors are trained to help you succeed academically.
Browse our available tutors today.
Academic Coaching
Academic coaching helps students to build their academic skill set. This includes goal setting, time management, study strategies, procrastination, textbook reading, note taking, and motivation as it relates to school. 
Common topics students discuss with their academic coach are about managing their time and balancing their academics with everything else going in their lives. Meetings with your academic coach can be about many different topics, but the main goal is helping each student become the best student that they can be.
Academic Coach
Kiara Kumar
ckumar@fiu.edu
305-348-0309
ASP's History
The original program was designed as an Academic Improvement Plan (AIP) and was intended to help students who found themselves on academic warning or probation. Since 2012, the program has expanded to help students from various colleges.