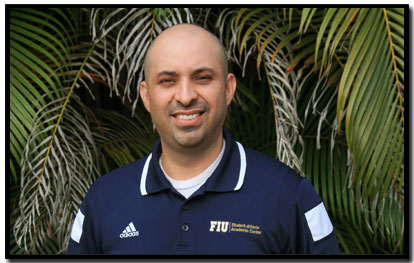 Ron Reyes
Office Manager
Student-Athlete Academic Center
---
Phone: 305-348-6412
Email: rojreye@fiu.edu
Bio
Ron Reyes has worked at Florida International University since April of 2010. He was originally hired by the FIU Libraries and the Division of Human Resources before becoming the Office Manager at the Student Athlete Academic Center in October of 2013. As the Office Manager for the SAAC, some of his responsibilities include overseeing the department budget, building maintenance and construction, as well as the student-athlete book/technology distribution and returns. Ron also trains and supervises several student assistants who assist in administrative work for the SAAC.
Since 2010, Ron has been a member of the FIU Commencement Committee, acting as an Ambassador Coordinator. Ron and the committee were awarded the 2011 Presidential Excellence Award. He plans to complete his Bachelors of Business Administration from FIU.
During his off time, Ron likes to watch car racing and sports.