Outstanding Student Life Awards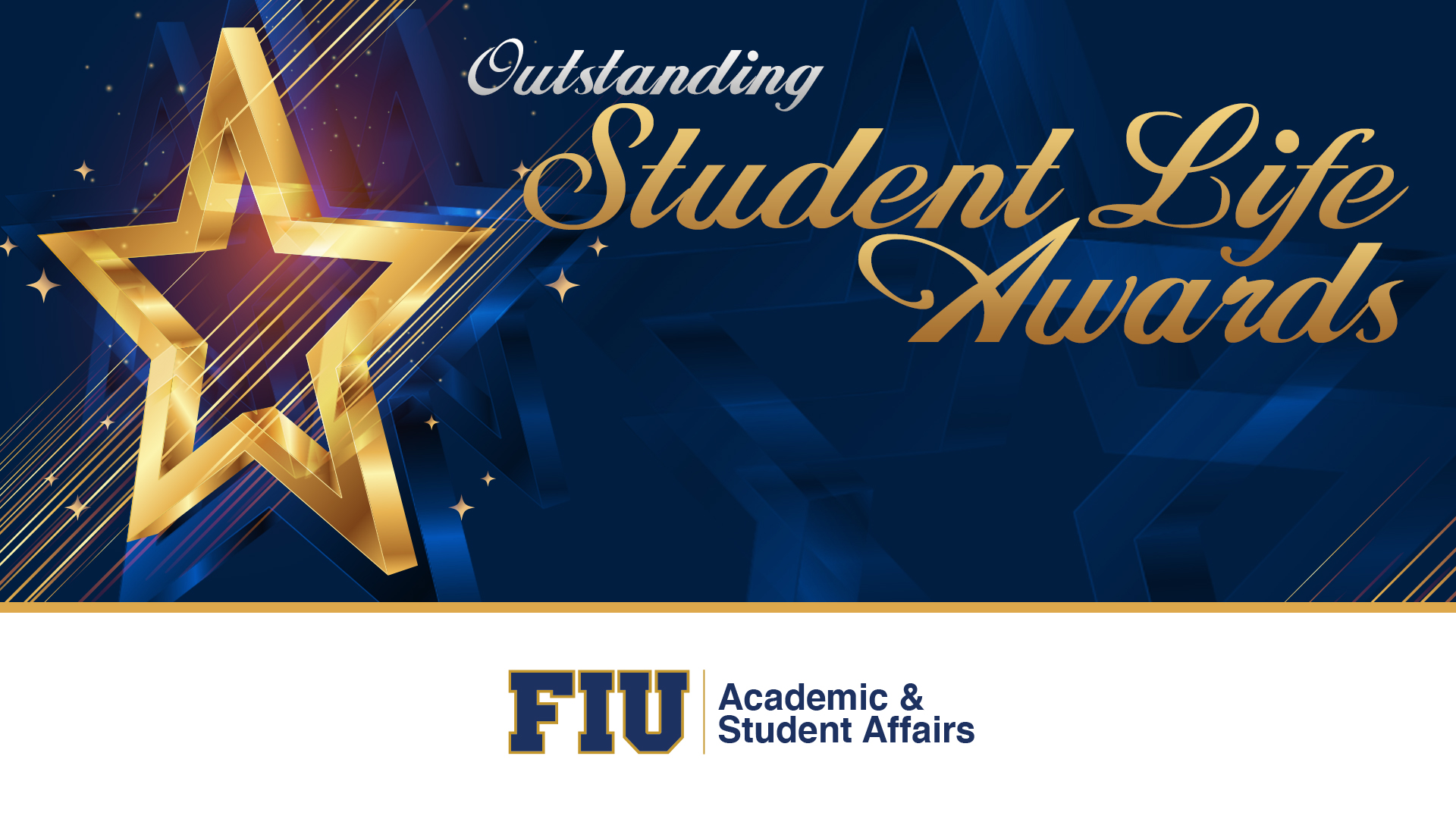 Student Life Awards Nominations!
The Student Life Awards nomination process will open in November 2023! Keep an eye out for more information.
Award categories and descriptions
Eligibility and process
Nominees and applicants for all awards

Have demonstrated leadership in the university community that enhances life on campus in either virtual or in-person environments.
Must be enrolled at FIU during the semester of the awards ceremony.
Must have a minimum cumulative GPA of 2.75.
Must be in good conduct standing with the university( A Conduct Check will be conducted by the Office of Student Conduct & Academic Integrity, all applicants will be asked to authorize a conduct check)
Required to complete the Nominee Form, which is sent by email when a nomination is submitted.

Check your junk and/or spam mail for this message. It will be from FIU Student Life Awards <SLA@fiu.edu>.
Called a "Letter of Recommendation" by the system.
Must upload resume (.pdf), headshot (.jpeg), and a video submission sharing a quick description of what the nomination means to you and/or the organization.
If you receive multiple nominations, you will need to complete the Nominee Form multiple times.

Nominators

Nominators must complete the online nomination form:

Create a profile when first logging into the system. (This will auto-populate some of the form.)
The questions generated depend on the category selected.
Nominators will be asked to complete the questions provided within the form OR provide a letter of support in PDF form stating the award category and examples that indicate the strength of the student's candidacy, and whenever applicable, the impact the student has had through co-curricular involvement.
Track the nominations you submit through this system:

Provide an email address for the student, who will receive a request to fill out a Nominee Form. The nomination is NOT valid until this Nominee Form is also filled out.
See if the student submitted their Nominee Form (note: called a "Pending Letter of Recommendation" by the system). If they have not, you can resend it to them.
After the student submits their Nominee Form, you will receive an email indicating your nomination is complete.

Guidelines and Resources

Below you will find additional resources to assist nominators with nomination letters and nominees to create or update resumes. 

Nomination Letter(s) Guideline: Letter of Recommendation Guideline

Resume Guidelines and Resources:


Resources were created by FIU's Career and Talent Development and from the Office of Pre-Health Professions Advising.
Outstanding Student Life Awards
2023 Winners
Outstanding First Year Leadership Award – Isabel Trespalacios

Outstanding Sophomore Leadership Award – Ian Gonzalez

Outstanding Junior Leadership Award – Natalie Concepcion & Tiara Campbell

Outstanding Senior Leadership Award – Kimora Miller, Luis Gutierrez, Melanie Perez & Valentina Casanova

Outstanding Graduate Leadership Award – Dino Fanfan & Nicholas Conway

Outstanding Diversity, Inclusion and Belonging  Award –Ashley Perez & Ikechukwa "Ike" Onwuka
Outstanding Service Individual Award – Alexia Fleites & Nicole Cruz
Outstanding Innovation Individual Award – Nicholas Gonzalez & Rafael Moya-Palacios
Outstanding Spirit Individual Award – Phuong Cara Hoang

Outstanding Spirit Organization Award – Panther Power
Outstanding Undergraduate Scholar Award – Ana Claus & Matty Sey

Outstanding Graduate Scholar Award – Adnan Maruf & Seyed Saman

Presidential Award –Laura Garcia Barcia

Larry W. Lunsford Leadership Award - Fernando Melara
Special Recognition - SGA President, Cristhofer Lugo & SGA Vice President, Valentina Casanova