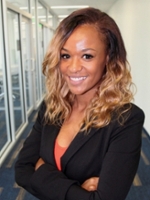 Bio
Additionally, she is the Clinical Instructor for the FIU Athletic Training Program.

She has a Bachelor of Science degree in Sports Psychology from Wayne State University and a Master of Science degree in Athletic Training from FIU.

Nikki is currently pursuing her Doctorates in Athletic Training at A.T. Still University in Mesa, AZ.

Previously to this position, Nikki served 3 years as the Head Athletic Trainer as Miami Booker T. Washington Senior High School.